a belated introduction to the new man in my life
Uncategorized
July 30, 2019
by Jacki Skole
3 Comments
Meet Carson.
He's curious and stubborn.
He wakes far too early for my liking. Five on the clock I'm okay with; four-thirty, no thank you.
He's demanding when he wants attention—he either emits a high-pitched whine or seeks out any non-toy he can find, usually an area rug, a sock, a shoe, or my daughters' underwear. (He's also been known to steal used tampons, but I'll spare you those details.)
All said, he's pretty much your typical puppy. That also means he's ridiculously adorable and absolutely beloved by the humans in my family. As for Galen, the once lone canine, there's begrudging acceptance. I'm pretty sure she's thinking, "Crap. He's staying. I'll just ignore him and snarl when he jumps on my head."
Galen has, however, discovered one upside to having the little guy around: lots of treats. With Carson learning the basics, like sit, stay, and come, the cookies are free-flowing. Galen makes sure that for every treat Carson gets, she gets one, too.
Stay tuned for more on the trials of raising a puppy, including why I believe in this equation: infant + toddler = puppy. Until then, here's Carson's quickie bio:
Name: Inspired by two Carsons: Carson Wentz, the Philadelphia Eagles quarterback and Rachel Carson, author of Silent Spring, the book that would help launch the environmental movement.
Breed: Norwegian Elkhound, German shepherd
Date of birth: February 19, 2019 (Straddles Aquarius and Pisces, but I'm not sure any studies have been done connecting canine personality traits to the zodiac.)
State of Origin: West Virginia. An all too familiar tale: Carson's owner surrendered him and his littermates to the county shelter.
Rescue: One Step Closer Animal Rescue (OSCAR) brought Carson and his siblings to New Jersey. We adopted him from them. You can read all about OSCAR in Dogland. Since publication, OSCAR has opened its own shelter in Andover, NJ to house even more dogs and cats than it could as a foster-based rescue.
Fun fact: Carson's original name was Nugget.
In book news…
Delia Owens' debut novel, Where the Crawdads Sing, has spent more than 45 weeks on the New York Times best seller list and is being made into a movie by Reese Witherspoon's production company. What's the hype all about? You can read my review at EcoLit Books.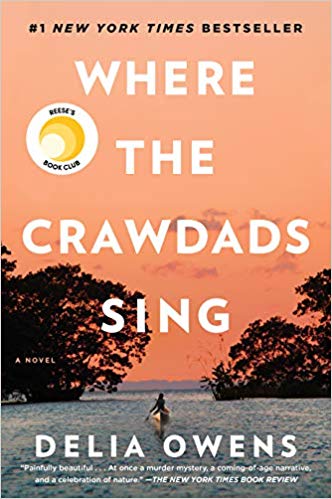 If you live in or around Warren Township, New Jersey, and you haven't picked up Dogland yet, please come out to the Warren library on Tuesday night, August 6th at 7:00 p.m. I'd love to see you.