The House that Emily Built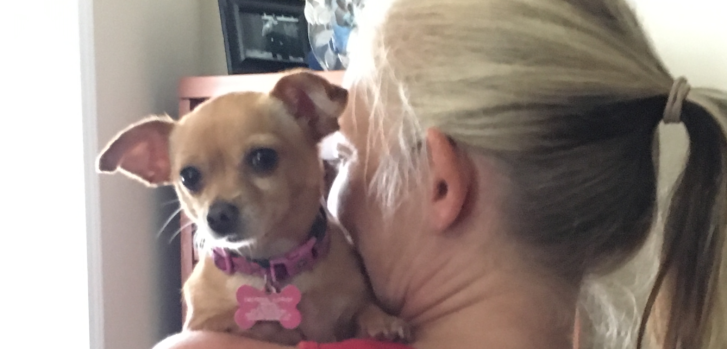 It would be her word against Johnny's*.
Again.
Still, Deborah* dialed 9-1-1. She feared what Johnny might do next. He'd already burst into their bedroom screaming. He'd already grabbed her by the feet and dragged her off the bed paying no mind to her right leg, still in a cast a month after what she called "the stomping." He'd snatched her cell phone and shattered it. And she was sure he'd put Patton outside. Otherwise, the ninety-pound foxhound would certainly have barged into the bedroom and gotten up in Johnny's face, barking, backing him away from her, as Patton typically did when Johnny got aggressive.
At least she'd hidden her stepfather's old cell phone in a kitchen drawer.
Now, as Johnny spoke with the two responding officers, Deborah sat on the porch of his Butts County, Georgia home. It was July 11, 2014, just before midnight. I've got to get out of here, she told herself. The statement had become a mantra, intoned more urgently after each fight. But Deborah wasn't where she needed to be financially. Despite squirreling away money for months, the thirty-nine-year-old hadn't saved nearly enough for a place of her own—a place she, her daughter, her stepfather, and their three dogs could call home.
Deborah absently stroked the tiny Chihuahua curled in her lap. At least, she thought, she wouldn't be heading to jail like Johnny. The officers arrested him on charges of disorderly conduct. They issued Deborah a warning. The sergeant told her he didn't want to risk further injury to her leg by taking her into custody. Deborah watched as the sergeant led Johnny, now in handcuffs, to a waiting patrol car. Of course, Johnny would be back the following day, and with her stepfather and daughter out of town, Deborah would have to face him alone.
It was still hard for Deborah to reconcile the Johnny she'd met at church with the man she now lived with. Johnny's generosity and zeal for helping others had endeared him to her. So had his goofy side, which made him so unlike other rodeo cowboys she knew — "hard, macho" guys, like her ex-husband. Maybe, she'd told herself, cowboys were different in Johnny's native Oklahoma.
As the patrol car began to snake its way down the long driveway leading out to the main road, Sheriff's Deputy James Sanders walked over to Deborah. This was the officer's third dispatch to the secluded lakeside house in the past month. He'd seen enough to know that the slender blonde sitting before him was in trouble. Sanders handed Deborah a green and white pamphlet with a list of county agencies and urged her to call the local domestic violence shelter. "If you don't leave," Sanders said, "he's going to kill you."
Deborah looked at Sanders. "I can't leave," she said. "What about my dogs?"
Patton, the foxhound; Lucy, the Chihuahua; and Scarlet, a Chow—were family, Deborah told Sanders. They were why she hadn't already left the lake house. They were why she was saving for a place of her own. They were why she had no choice but to stay—even if staying meant risking her life.
*
Emily Christie stayed for her cat, Luna.
This was in the mid-1990s, when Christie was in her twenties and trapped in a relationship so toxic that she didn't doubt her boyfriend when he said he would kill Luna if she left him.
With nowhere to go, Christie ultimately sought refuge for herself and Luna at a domestic violence shelter near her Forsyth County, Georgia home. But upon arrival, Christie found that while she was welcome, Luna was not. The shelter simply did not have the ability to house companion animals. Unwilling to surrender Luna to an animal shelter, Christie found an acquaintance who agreed to take the cat while Christie returned to the women's shelter. But when she sought to reclaim Luna, Christie learned her cat had run away.
Christie never saw Luna again.
*
Today, fewer than five percent of domestic violence shelters in the United States are pet friendly, meaning that the shelter permits pets or has an on-site kennel. Remarkably, several states don't have even a single shelter that can accommodate pets. In Congress, there's bipartisan acknowledgement that local communities woefully lack the resources to support domestic violence victims and their companion animals, but legislation that would make federal grants available for housing and support services has languished in the House for the past several years.
Compounding the problem of a lack of resources, researchers have found a correlation between domestic violence and animal abuse: Where one is present, the other very often is, too. Indeed, studies of domestic violence victims have found that just over seventy percent of pet-owning women entering shelters reported that, like Emily Christie, their abusers had threatened, injured, or killed a pet as a means of revenge or psychological control. And nearly fifty percent, like Deborah, reported that they had delayed leaving or stayed in an abusive relationship for fear their abuser would hurt—even kill—their pet if they left it behind.
"In my mind, I knew I had to get out," Deborah told me. "But I was kind of rolling with it because I didn't have the money. I knew I could take me and my daughter at any given time and go somewhere. I knew I could send my stepfather to live with my sister. But then I would be leaving my three dogs, and I knew I couldn't do that."
*
"When I need inspiration, I often ask myself, what would Emily do?" said Myra Rasnick. Emily is Emily Christie, and Rasnick is the executive director of the Atlanta-area non-profit born of Christie's heartbreak.
In 1997, still grieving the loss of Luna, Christie decided there needed to be some kind of animal shelter, in Georgia, where pets could be cared for during their owner's stay in a domestic violence shelter. "Emily had decided no victim should ever have to go through what she went through," Rasnick told me when I visited the nonprofit's headquarters. "No victim should have to choose between her safety and the safety of her pet."
Twenty years ago, when Christie set out to build the type of shelter that could have cared for Luna while she sought refuge, she couldn't find any models to replicate. So, she relied on friends, and friends of friends, who volunteered ideas and time and money. It took seven years, but in 2004, Christie opened what she called a "no-kill animal safe-house." She named the space Ahimsa House, after the Sanskrit word—ahimsa—for the Hindu principle of nonviolence.
In its initial iteration, Ahimsa House boarded pets until they could be reunited with their owners. Christie and a handful of volunteers transported victims' pets to and from the shelter; veterinary partners provided medical services from vaccinations to spay/neuter surgeries; and a professional dog trainer provided counseling to dogs with behavioral issues. All the services were free to domestic violence victims and paid for through private donations.
But Christie soon found that the model had shortcomings she hadn't anticipated. Among them, the three-room shelter turned out to be too small to satisfy the demand—there were just too many dogs and cats that needed safe keeping. Christie had also wanted to serve victims throughout Georgia, but the state's size—it covers nearly sixty-thousand square miles—made transports challenging for what was, at its heart, a one-woman operation. There was also the existential threat to Christie, her volunteers, and the animals that, despite keeping the shelter's location secret, an abuser—perhaps in a fit of rage—might discover it. And the cost of veterinary visits for the animals—most had never been vaccinated, many suffered from abuse-related injuries—strained the organization's finances. Treating a fifteen-month old black Lab that had been shot with a pellet gun and beaten so badly that his right rear leg was broken in two places, nearly bankrupted the organization. The dog, The Forsyth Herald reported, was abused by a man "who wanted to teach his wife and kids a lesson they wouldn't forget."
In 2006, two years after the shelter opened, Christie was forced to shut it down. But she believed too much in what she'd created to give up. What she needed, she decided, was a new program model.
She found it in direct-services.
Rather than rely on a shelter to house victims' pets, Christie set about building a state-wide network of foster homes and boarding facilities that could house the animals. It was around this time that Rasnick came on board, charged with growing the network throughout all of Georgia's one-hundred-fifty-nine counties. This move to a decentralized model not only allowed Ahimsa House to serve more victims, it also made it possible for the non-profit to expand its definition of "pet" beyond dogs and cats to all animals, no matter the size, no matter the species. Since then, Ahimsa House has cared for hamsters, guinea pigs, birds, turtles, fish, rabbits, and iguanas; it sheltered its first horse in 2008.
Today, like two decades ago, Ahimsa House relies on volunteers to help with just about everything, from manning the organization's 24-hour crisis hotline to transporting and fostering pets to fundraising and assisting with the non-profit's many administrative and IT needs. "Volunteers drive us," Rasnick said. "We need to lean very heavily on them to do all that we do."
*
Athena, a two-year-old Lab mix pins Ginger, a Chihuahua mix, to the living room's hardwood floor. Then, in mere milliseconds, the dogs swap spots, and Ginger, who instigated the activity, is on top, growling and wrapping her teeth around Athena's neck. Einstein, a shepherd-Corgi mix, watches from the couch, debating, perhaps, whether to join in.
"When we picked up Athena from the local vet, her back legs were trembling, her tail was tucked under, and we were told she was afraid of men," Jana Wakeman* tells me. The two of us, and Jana's husband, Stephen, are sitting in the couple's kitchen, watching Ginger dominate a dog five times her size. "But in just one night with us," Jana says, "Athena blossomed into this goober."
Ginger and Einstein belong to the Wakemans; Athena does not. The Wakemans are fostering her for one of Ahimsa House's clients—a person they don't know and will never meet. This is for everyone's safety—including Athena's. That's because study after study has found that the most dangerous time for domestic violence victims—and those they love—is when they decide to leave their abuser. Athena isn't even the dog's real name; the Wakemans don't know what it is.
The Wakemans have been fostering for several years—only dogs, not cats. They already have four of the latter and say cats are harder to integrate. They think they've taken in as many as twenty-six dogs, but it's hard to keep track because sometimes they get siblings. Most of the time the dogs settle in quickly, thanks in large part to the friendliness of Ginger and Einstein. But they do recall a dog that was so frightened, the couple couldn't lure it out of their van. Ahimsa House placed that dog with a trainer.
Stephen, a graphic designer, was an early Ahimsa House volunteer—he was one of those friends of Emily Christie's friends. It was Stephen who introduced Jana to Ahimsa House. Early in their relationship, he took her to one of the non-profit's fundraising galas. It was, he said, their "first big date."
Jana began her association with the organization answering the crisis hotline. "You'd have to take a deep breath when you picked up the phone," she said, "because you didn't know what the situation was going to be. It could be someone locked in a bathroom or someone looking for resources so she can plan to leave." Then Jana started helping out with transports. "The one that sticks out was a German shepherd. We were going to meet the victim at a Starbuck's south of Atlanta, and we're driving, and it was the weirdest thing. The dog was super chill when we picked her up, and the closer we got to the Starbuck's she started getting excited, and I'm thinking, how does she know what we're doing? And so, we get there, and there are a bunch of people outside, and I was like, how are we going to know who this dog's mama is? We get out, leash up the dog, and start walking toward the Starbuck's, and all of a sudden, she's making these sounds. And I could cry right now, and this was years go. And this lady starts crying, so we knew immediately. I mean even the people sitting there at the Starbuck's watching the reunion were crying, and they didn't have any idea what was happening."
Einstein enters the fray and he, Ginger, and Athena ricochet off the side of the couch. Stephen goes to the freezer and grabs three dog treats. That gets the dogs' attention. He asks them to sit, hands each a treat, and ushers them into the backyard.
"I like to fatten up the fosters, have them groomed, their nails clipped," Jana said. "I send them back with food and toys. When the dog goes back I want him to be better than when the victim gave him up."
Jana has seen, however, that not all dogs thrive away from their owner. For some, the separation can take a physical toll. "I had a transport where the dog had lost a lot of weight. It was just really upset being separated from its owner."
That people and their pets experience profound bonds has been born out in numerous studies. For most pet owners, however, the science only confirms their lived truth, a truth that, for many adults, begins taking shape during childhood. When I spoke with Deborah, she said that as far back as she could remember, dogs were integral members of her family. "When I was two, maybe three, my uncle showed up at my great grandma's with the ugliest gremlin-looking-thing, and I fell in love with it. I named her Lady Bug." Lady, Deborah's nickname for the Fox Terrier-Chihuahua, was Deborah's constant companion. "She was my shadow. I took her everywhere. The only time Lady wasn't with me was when I was in school."
Their bond, Deborah said, was "the one consistent thing in an otherwise turbulent childhood." Deborah's father died when she was ten. Her mother used drugs. Her great grandmother raised her. When Deborah married her now ex-husband—she was sixteen; he was nineteen—Lady took up residence with the young couple.
After Lady Bug, there would be more dogs, including Scarlet, Lucy, and Patton, the dogs living with Deborah at Johnny's lake house. Scarlet replaced Rahicki, who was also a Chow. Lucy was a Mother's Day gift from Deborah's mother. Patton, the ninety-pound Foxhound, initially belonged to a man Deborah dated after her divorce. "When we quit dating, he disappeared, and I got the dog," Deborah said. Despite being wary about caring for a dog of Patton's size, Deborah said the Foxhound quickly endeared himself to her. One afternoon, upon seeing Deborah's daughter roughhousing with a cousin, Patton mistook the playing for fighting. "Patton thought my nephew was going to hurt my daughter so he put him down on the ground as if to say, 'Do not touch her.' Patton didn't hurt my nephew, but I thought, this dog is freakin' amazing." Patton was also protective of Scarlet and Lucy, and when the family moved in with Johnny, he became protective of Deborah.
"If Patton was in the house and Johnny lost his temper, Patton was on him, in his face, barking, trying to back him up. It got to a point that when Johnny was behaving stupidly, he would make sure that Patton was outside."
*
Georgia has forty-six state-certified domestic violence shelters. Only four are pet friendly. Haven House, the shelter serving Butts County, where Deborah lived, isn't one of them, and because Deborah lived in Butts County, the services offered by the shelters that can accommodate pets weren't available to her.
Suzanne Dow, executive director of Circle of Hope, in Northeast Georgia, says pet-friendly shelters, like hers, can only accept domestic violence victims living in the geographic area they serve. "Because Circle of Hope has a kennel, people are finding us on the Internet, calling from in-state, out-of-state, wanting to come here," Dow told me. "I have to say, 'no.' If I fill up with them, I can't take the people from my area." As it stands, the shelter rarely has an open bed. More often, it's over capacity.
Dow, who's worked at the shelter for two decades, says having the kennel—it's a small shed-like structure that can hold up to eight various-sized crates—is vital. "I've always tried to pay attention to what presents itself as a barrier to victims leaving, and over and over on the hotline we had victims wanting to bring their animals. They would ask if they could. We would say, 'no.' And then they would not come." In 2014, a donor funded the kennel's construction.
The morning I visit Circle of Hope, a lab-mix puppy with round brown eyes, brindle fur and a pink collar sits on a gold and maroon quilt in a black metal crate. She is the sole pet in the kennel. Dow tells me that she's thinking about turning an office in the shelter into a pet-friendly bedroom because for some victims, any separation from their pet is unpalatable. "One woman," she said, "took her mattress into the kennel overnight to be with her dog since it couldn't come into the shelter."
For Georgia's forty-two non-pet-friendly domestic violence shelters, Ahimsa House can be the difference between life and death for both victims and their pets. But getting the word out to domestic violence advocates, to police departments, to animal control units about the organization's very existence has been challenging for a non-profit that, for most of its existence, had a staff of two; it was only in 2016 that its personnel more than doubled. Indeed, when I visited the Butts County Sheriff's Office to pull Deborah's incident reports, no one I spoke with, including the sheriff, was familiar with the organization.
Ahimsa House sees, as its mission, raising awareness of the connection between animal cruelty and family violence among these same groups. Myra Rasnick said Ahimsa House would like to increase the number of training sessions it does with human services and animal protection agencies across Georgia. "I want to get to the point where shelter staff screen for pets when victims call their hotlines. I want police officers to look at animals when they respond to a call about a domestic dispute and look for evidence of animal abuse. I want animal control to look for human abuse when they see animal abuse. All of this is connected. We need to spot it as early as we can to get victims and their pets to safety."
Rasnick said there also needs to be more education about the human-animal bond across all the agencies—including staff at domestic violence shelters. "We've had victims call us and say that someone on a shelter's crisis hotline told them to just leave, that their pet is just an animal. I do education around this with shelter staff. I tell them you may not be an animal person. You may not see a pet as an obstacle, but everyone is different. I say, you wouldn't tell someone to leave their children, why would you tell them to leave their animal?"
When Deborah told Butts County Sheriff's Deputy James Sanders that she couldn't leave her dogs, the officer pulled out his smart phone and "started googling." Sanders believed there had to be somewhere Deborah could go to get help for herself and her dogs, because as he saw it, staying was no longer an option. Minutes later, Sanders handed Deborah the phone number for Ahimsa House and told her to call.
"After he left," Deborah said, "I dialed the number. I started crying, and I told them my story."
*Last names have been dropped or changed to protect privacy.
***
Ahimsa House, and organizations like it, are financed primarily through donations; most do not receive public funds. Please consider donating to non-profits in your community whose work ensures that victims of domestic violence, their children, and their pets, can escape abusive situations together.
ABOUT
Jacki Skole is an award-winning journalist, author and adjunct professor of communication. A graduate of the University of Michigan and Northwestern University's Medill School of Journalism, she spent a decade as a writer and producer at CNN before turning to teaching. Jacki launched WRITE Now to assist students in writing the college application essays that will chart their future. Read More...