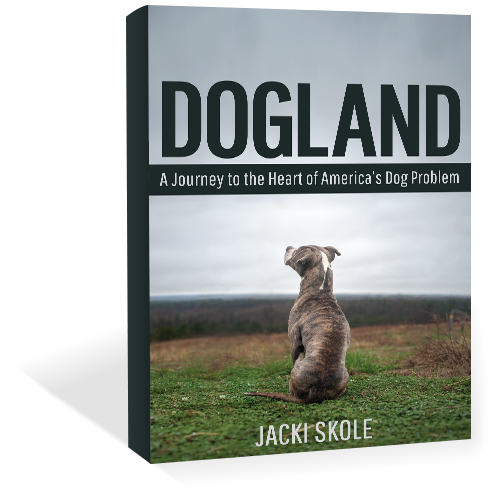 How much do you know about your dog's history?
In a mix of memoir and investigative journalism, Jacki Skole traces the origins of her family's adopted puppy to a rural North Carolina neighborhood. What she discovers reveals as much about her young dog as the multi-faceted human-canine relationship.
For a country whose citizens dramatically underestimate the number of healthy dogs euthanized in shelters nationwide, for rescue groups desperately working to save canine lives, and for everyone who loves dogs, Dogland: A Journey to the Heart of America's Dog Problem blends a heartwarming rescue story with a compelling investigation of a region—and country—in crisis. And it offers us all a way out.
100% of the proceeds are donated to animal welfare. Buy Dogland at Amazon, Barnes and Noble and Ashland Creek Press.
Recognition
2015 Maxwell Award winner — Dog Writers Association of America
2015 Nautilus Silver Award Winner
2016 Next Generation Indie Book Award Winner
2016 Readers' Favorite Bronze Medal Winner
"Dogland tackles a complex, emotional topic without chest-thumping and opens readers' eyes to how we can help these faithful companions."–Animal Sheltering Magazine
"The story is riveting and sometimes disturbing." –Rae Dunn, "Wilma's World"
"(Dogland) is an important and thought-provoking work that challenges each of us to evaluate how companion animals are treated and traded in this country."–Tracy Slowiak for Readers' Favorite
"Those who have given their hearts and homes to shelter dogs will find much here to validate their love, but ultimately the book is meant as a call to action." –Publisher's Weekly
"Skole uses her journalism background and her love of animals to shed light on a topic that hits home for just about anyone who has ever brought a dog into their lives…Dogland is a truly compelling book that will have you driving to the nearest shelter to offer a hand or a paw in any way you can." —Glassworks Magazine
"Thank you to Jacki Skole for taking the steps to understand this complex issue and for writing this important book to inform the rest of us…My hope is that Dogland compels us all to truly work together…Animal protection is one of the most pressing social justice issues of our time." –Kimberly Spanjol, Ph.D., BCBA-D, LMHC, Humane Education Learning Programs (H.E.L.P.)
ABOUT
Jacki Skole is an award-winning journalist, author and adjunct professor of communication. A graduate of the University of Michigan and Northwestern University's Medill School of Journalism, she spent a decade as a writer and producer at CNN before turning to teaching. Jacki launched WRITE Now to assist students in writing the college application essays that will chart their future. Read More...